Smart vacuum cleaners are automatic robots with intelligent navigation systems to relieve you from the laborious task of floor mopping and cleaning. These futuristic smart home cleaners are specifically helpful if you do home cleaning cores yourself but have health issues like arthritis and back pain.
Even if you do not have an ache, the smart cleaner robots save your time from the routine boring and tedious job which you can utilize to relax or use fruitfully in some other way.
The best part of the smart vacuum cleaners is that they can be voice-controlled when paired with Alexa or Google Home over Wifi. So you just need to say the wake-up word and command your smart home cleaner to start cleaning.
The higher-end models come with an app which gives you the flexibility to control and schedule smart cleaner robots even when you are not at home. Making them a great alternative to the traditional upright or canister type vacuum cleaners which required manual operations.
The smart vacuum cleaners require minimal supervision as they guided by advanced navigation algorithm and have infrared sensors to map your room into specific zones. Thus improving cleaning efficiency.
To make your search easy the article lists three of the best smart vacuum cleaners which you can rely on for your floor cleaning needs.
But before that, you need to know certain important things before buying a smart vacuum cleaner.
Things to Consider While Buying Smart Home Cleaner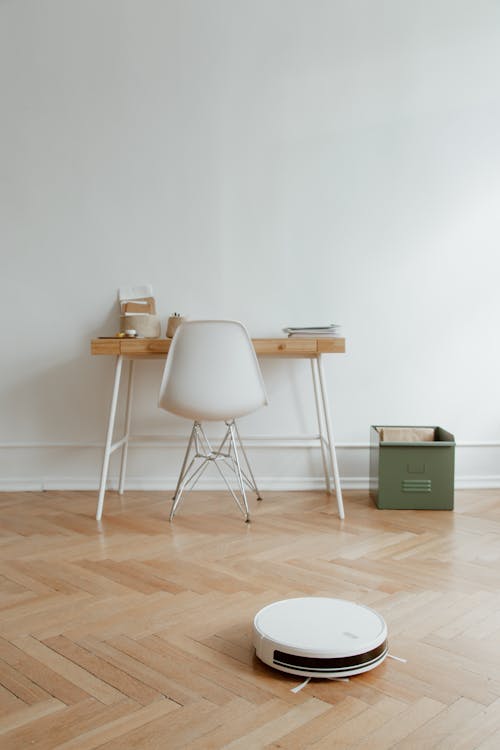 1. Floor Material
The floor surface material is the first thing you should keep in mind while selecting a smart home cleaner because it impacts the power and type of cleaning (dry or wet).
Floors with carpet require more power. Higher-end smart vacuum cleaners can adjust to the different surface by varying the power. For example, on the carpet, they can boost the power and throttle down when they sense hardwood.
Vinyl and tile floors can be wet cleaned whereas hardwood and carpet floors are better off with suction and dry mopping.
2. Dimensions
Size, especially the height is a major factor which determines whether your smart vacuum cleaner can reach to the tight spots like under sofa, hairdressers, and bed.
Smart cleaner robots with less height are better because they can easily move under low clearance furniture like recliners, couches and kitchen cabinets.
Generally, the bigger the vacuum cleaner, bigger is their dustbins which means you do not have to empty them frequently.
3. Wifi Enabled
The flexibility to command and control your smart vacuum cleaner over wifi means you can schedule the clean time and frequency, have live updates and system monitoring.
Check whether the smart vacuum cleaner is Wifi enabled or not, because wifi lets you connect with compatible Alexa or Google Home for voice commands. Wifi also lets you control your smart vacuum device though the App on mobile.
4. Battery Life and Power Requirements
Smart vacuum cleaners are powered by expensive Li-ion batteries. The bigger the battery power the more is the run time. The table below indicates the run time for different types of robotic vacuum cleaners available in the market.
Run TimeRobovac
Less than 60 mins Generally unacceptable
60 mins Lower end budget models
60-80 mins Average cycle, a mid-range model
80-90+ mins High end, top model
You also need to check whether the vacuum cleaner is smart enough to detect low power and automatically return to its docking station for charging before it resumes cleaning or it needs to be carried back manually for charging.
Select a smart vacuum cleaner based on convenience and the amount of cleaning time required.
5. Budget
There will be some obvious difference between the high end and lower-end models. The lower-priced models do not have wifi connectivity and tractioned brush. But, you need to see which of the smart vacuum cleaners offers you the most value for your money.
Also, remember that the replacement parts of the smart vacuum cleaners are expensive and the typical warranty does not cover them for normal wear and tear.
Best Smart Vacuum Cleaners
1. iRobot Roomba Vacuum Cleaning Robot
iRobot Roomba 980 is compatible with Alexa. You can very well ask Alexa to start or stop your Roomba.
Plus, iRobot Roomba 980 is equipped with the iRobot's proprietary AWARE Robotic Intelligence system which helps the robovac in making decisions, hence does not require your daily inputs.
You can set the instructions over the iRobot home app. The app helps you control and schedule clean 7 times or more a week anywhere. Through the app, you can
Monitor cleaning activity
View clean history & reports
Watch maintenance videos
App updates the robovac with the latest software
iRobot Smart Home Cleaner
iRobot Roomba uses iAdapt 2.0 navigation technology with visual localization, so you need not worry about the robovac getting bumped, falling from stairs or entangled in wires. Roomba can easily move around the clutter in different rooms, which enables it to clean the entire floor level easily.
Roomba is only 9.2 cm tall, so it can navigate easily under the coffee table, beds, nightstands and most of the furniture.
Further, iRobot Roomba is powered by Lithium-ion battery and on a single charge lasts up to 90 minutes of cleaning. Roomba has auto-adjust cleaning head with dual multi-surface brushes which helps you clean carpets, hard floors, sweep wall edges and corners.
Best For – iRobot Roomba is best suited to a large house with 2000 square feet areas having different floor surface and more open spaces.
Pros
Compatible with Alexa
Customized cleaning and monitoring through App
Suitable be different floor materials
Powerful Lithium-ion battery
Cons
Costly
Upkeep costs (filters, brushes, virtual wall modules)
2. Eufy BoostlQ RoboVac
Eufy BoostIQ is the slimmest smart vacuum cleaner. With 7.2 cm height, it can move easily under most of the kitchen, living, bedroom furniture and installations where other robovac fails to reach. Thus ensuring that the house is thoroughly cleaned without moving furniture.
To help you with a different surface, Eufy is equipped with BoostIQ technology. Which increases the suction power up to 1300 Pa within 1.5 seconds on reaching stubborn dirt on carpets for effective cleaning. Later is rolls down the power to clean hard floors.
However, the boost technology is a drain on the battery. But you can rely on Eufy Robovac high capacity Li-ion battery which delivers up to 100 minutes of constant, powerful suction.
Eufy Robovac is covered with an anti-scratch tempered glass which provides a sleek elegant look and superior protection for the RoboVac. Further, Eufy has infrared-sensors for evading obstacles, and drop-sensing tech to avoid falls. Plus it automatically recharges so that it is always ready for you to clean.
Eufy Smart Cleaner Robot
Best For – 2 to 3 BHK homes having different floor surface and having furniture and installations.
Pros
Slim Robovac with 7.2 cm height
Eufy Robovac is low prices and value buy
BoostIQ tech to ramp suction power
Works on different floor surface
Cons
No Wifi or App to control
Power Boost tech option drains the battery quickly
3. iLife Sweeping Floor Cleaner
iLife automatic vacuum sweeping floor cleaner relies on the virtual wall, infrared sensors and drop sense technology.
The technology allows real-time recording of the coordinates for wall, furniture and assesses the cleaning area. So that you can customize the smart vacuum to clean or sweep out specific places.
iLife is a 3-in-1 robot vacuum cleaner (sweeping, vacuuming, wet/dry mopping) which is protected by anti-scratch tempered glass. With 7.2 cm in height, it can move easily under beds, sofas and cleans hard to reach places. 
The smart vacuum has a brushless motor with suction strength of up to 1200 Pa enough to pull hard dust, scattered crumbs, grains, and pet hairs. Further, iLife can automatically adjust suction strength to help you sweep, dry or wet mop different surfaces like carpet, tile, hardwood and laminate floor.
iLife can self recharge and operates on 2600mAH Li-ion powered battery giving your approximate 100 minutes of cleaning time on a single recharge.
iLife Smart Vacuum Cleaner
Best For – 2 to 3 BHK homes having different floor surface and having furniture and installations with wet mopping requirements.
Pros
Works on different floor materials
Slim robovac with 7.2 cm height
3 in one robot vacuum cleaner
Value for money purchase
Cons
Leaves water marks on tile surfaces
No Wifi or Apps
Conclusion
You can base purchase decision after carefully evaluating your cleaning requirements and the budget on hand.
If you are living in a 3 BHK apartment, then you can buy iLife smart cleaner for its value for money price and almost similar benefits.