Facial hair fringe has been in trend for centuries now, but of late, it's become a vogue. From fashionistas to the guy next door, the popularity of beards doesn't cease to amaze us all. Here are some cool beard grooming accessories that can help you uphold your hair beard accessories style.
Beard Shaping Tool
Chuck out the idea of visiting a salon time and again for a precise beard trim. Get an all-in-one beard shaping tool and get professional level care at home.
Premium Quality McBeard All in One Beard Shaping Template Tool & Beard Comb is ideal for straight & curve cut, goatee, sideburns, and neckline. The comb can give the required beard shape along with a razor or trimmer. Using this, you can have any kind of beard cut.
McBeard All in One Beard Shape comb is suitable for any type of beard style. You need to hold the tool in a position where they can get the required symmetric beard lines. Usage instructions are simple to follow – Hold the tool to neck or cheek, get a trimmer or razor and give beard shape as per the wish.
By effectively using the tool, you can have a professional-level beard cut at home and zero cost.
The tool comes in many shapes and styles, enabling you to try different beard styles.
It has two-way beard combs for the ideal clean-up of unwanted facial hair.
Beard Shampoo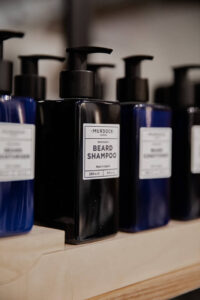 Your beard deserves a special cleaning product NOT just a shampoo. For a clean and soft appearance, tangle-free facial hair free of dust use Man Arden Beard Wash Island Emperor Shampoo & Conditioner. Man Arden Beard Wash is a product specially designed to groom, clean, and soften facial hair. Like ordinary shampoo, pour it on your palm in small quantities. Rub on hand and apply it to the beard.
This beard wash is suitable for all hair and skin types.
It gives the perfect appearance to facial hair and allows you to style your beard.
Man Arden Beard Wash is practical and effective. It comes with the properties of conditioner to give smoothing effects to the beard.
The beard wash keeps the beard stay smooth for a long time.
Beard Oil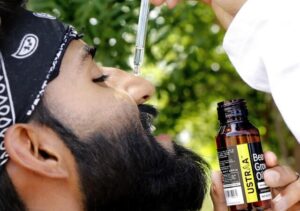 Applying beard oil is a great way to care for them and keep them in good shape in any kind of season. Ustraa Mooch and Beard Oil are particularly designed for beard hair. You can use it as a moisturizer to avoid hair getting brittle with the change in season.
Ustraa Mooch and Beard oil use various kinds of natural oils healthy for hair. This combination gives a perfect texture to the beard and protects the facial hair from dryness.
Ustraa Mooch and Beard Oil are free from SLS and parabens.
Made for facial hair is effective against dandruff too.
This beard oil keeps facial hair soft and non-sticky which protects it against dust.
It is easy to clean the oil from the beard by using shampoo.
To get the best results use the beard oil for a few weeks straight.
Beard & Moustache Wax
Make your mustache stylish with Gangs of Beard Moustache Wax. The wax contains natural ingredients and doesn't impose any harm on the skin. It helps in keeping the mustache in shape for hours. It is very easy to remove it whenever required.
Gangs of Beard Moustache Wax contains natural ingredients and is safe for mustache as well as the skin under it and doesn't cause any kind of infection. This wax contains Sulphates and Parabens which are safe for your skin.
With a stylish and natural-looking appearance, the wax gives perfect hold to the mustache for many hours until you rinse it with water.
This wax makes gives a pleasant fragrance to your beard.
The process of applying mustache wax is simple too. Take a small amount of wax apply it to the mustache, and get the desired style.
Beard Comb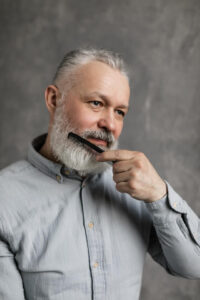 The best beard comb is the one that fits well in a pocket. BeardHood Folding Pocket Beard Comb is easy to carry anywhere and use whenever you find your beard disoriented.
Being a folding comb, it can be kept in a pocket, pouch, or a men's grooming kit to use anytime and anywhere.
It's a high-quality, portable product specially designed to keep the beard in its place. It is made of fine wood material and is installed with fine-quality teeth. The beard comb can be used on any kind of facial hair for combing.
To keep the comb in good condition and workable for a long time, keep it clean and folded when not used. It should be cleaned at a regular interval without posing any damage to its teeth.
What are the beard accessories you are using currently? Share them in the comments below.